OLIVIER ZAHM  led the conversation on the importance and contemporary relevance of print publishing for the combined world of art and fashion. This panel who happened this Summer at the Neue House in New York reevaluated the creative necessity of print publications and independent magazines within today's technological context. OZ  from Purple Magazine was joined by PIN-UP founder and editor Felix Burrichter, Visionaire founder and editor Cecilia Dean, and The Editor at Large of Interview,  New York Times and Artforum journalist and writer Christopher Bollen.
Olivier Zahm: 
The power of magazines has been declining for 25 years now. The magazines started following the brands. If you dont't credit the brands they won't advertise. 
A lot of magazines started to embrace the celebrities and put people who are not interesting in their covers just to sell. 
I personally tried to resist that. I did not want that.
Now we don't read magazines anymore. We use social media. No filter, no creativity. This is the end of magazines. We are just serving the brands. We are not sharing different point of views. We can't even chose the photographer. We have to work for the brand. This is a long evolution. What is going on? 
Cecilia Dean: 
Olivier. Stop panicking!! Stop being a pessimistic French man! We are independent publishers. In a way, we can control our destiny. At
Visionnaire
we don't deal with these struggles. We refuse to use advertising but we work with brands as sponsors. As much as you said
brands are creating their own content
everyone needs their own creative content.
Anybody who has a creative vision is going to have a future. You just have to be at the right time, at the right place, selling it the right way. You don't have to sell yourself out.
Olivier Zahm: 
I agree Cecilia. We go on
internet
and not on paper anymore. 
My question is why we still need paper, printed magazine?
Cecilia Dean:
I think you have to define what you mean by print. My definition of
print
is very open. Our latest issue of
Visionnaire
doesn't have paper or ink. It is still a publication, a
print
for me.
Print for me means a physical object. It is something that you can hold. You are using such a strict old school structure to describe what a magazine is. I'm glad I'm not in your struggle right now.
Felix Burritchter: 
We are now in the age where the
actual print object
has become a luxury.
The big challenge is how do you translate your vision in all these different medias. I struggle with that. When you own your skills in one medium it is difficult to translate it. It takes time.
Olivier Zahm: Magazines are a political statement. It says: we are not accepting what people want us to do. And what people want us to do is to sell their products. I never open press releases, I can't stand them. We decide what we want to talk about or share with our readers. I see your magazines (Pin-Up) is made for inspiration, ideas, political point of views, for sexual orientation, for aesthetic choices.
This is magazine. This is a counter power. This is not just a beautiful or nostalgic object to put on a table. It is something very active. It's even something dangerous.
I can't stand all these press releases. Internet was a counter power for a moment but is is completely instrumentalized by commerce now. The search engine are totally driving and controlling what you find on the internet. Making a magazine is almost a political resistance. And they don't put what you put on your magazine (Pin-Up). It's very difficult to find.
We are speaking about counter power. Fighting against vulgarity, against standard point of views and what we are suppose to embrace.
Felix Burritcher: It's important to remember which industry we are talking about. For most of the part we are talking about fashion.
Olivier Zahm: Art and fashion are the same industry. It is the same people. The people who goes to Gagosian are the same people who buy the clothes. They are in the same world. It is the same with architecture. Internet is a fragmentation of any information. Internet is a mosaic of information. It is a permanent threat of information and there's no possibilities for magazines on the internet.  Because Internet is all about numbers. You have to develop the number of your followers on Instagram. The reality of a magazine is not about numbers. It has never been. We fake it to the advertisers. We pretend we have this number of readers but they never know that it is fake. But what's not fake about making a magazine is we are not creating a number of readers, we are creating a community. A community of people who likes magazine.
I don't share my point of view on internet. I share my ego.
You don't need to like my magazine. You can dislike it but it is a point of view. Only a magazine can create this difference between you and me because  we know people who read my magazine will share something with me. The ones who don't like it have nothing in common with me. We pretend we are developing our own creativity on internet but we give it to everyone without giving it to the right person.
The interesting point with a magazine is to create an aesthetic, a community and that's what we do. We don't do it to show our beautiful bohemian apartment. We are creating an object  who has a sense of political and social meaning.
That was my intention making a magazine. The choice of the cover, the choice of the paper, the choice of the font has a political meaning. Cause we know the history of these types, we know the history of fashion we know the good photographers, we know the good stylists, we know the good brands. If we don't make a magazine no one will know that's what I think. On internet you just used your point of view. Pictures don't last more than a few seconds and disappeared, they are not made to last. It is consumerism. I believe magazines are anti-consumerism in their essence.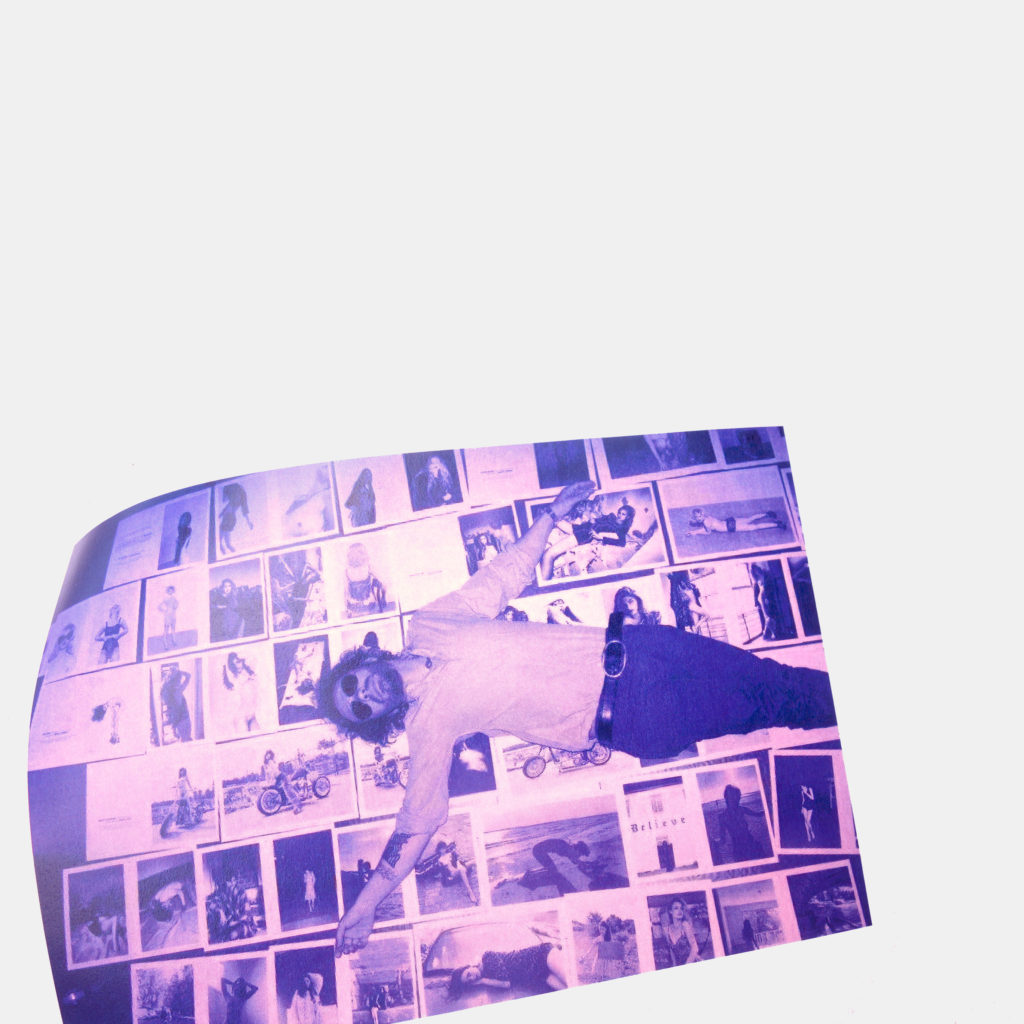 Christopher Bollen:
I agree with you (Olivier Zahm) 97%. A publisher of New York magazine recently said, off the record, the only reason they are actually still doing the print issue is because it's very difficult to have any celebrity, actually it is the only way to get the celebrity to agree to be on the cover when they have actually a physical object. They are making these printed issues to make the publicists and celebrities happy. 
It is important to emphasize a magazine is a prestigious object. 

So what if all the money will be made with the digital content and Instagram and we would not need a single ad on the magazine?

Olivier Zahm: But how do we produce an image without money?
Christopher Bollen: You would make money through the social media.
Olivier Zahm: To do that you need to have big numbers. And you will need their digital content. Don't go there it is a vicious circle. You never win.
Cecilia Dean: I think it is a very pessimistic view. There are a lot of incredible way to do it. 
A lot of creative people out there use the digital platform to create incredible aesthetic. We don't need hundreds of thousands of dollars to produce fashion shoots. I know it's very expensive but it is so much bullshit!
You have to go back to the roots. It's so French Olivier!! 
I don't think we can compare internet with magazines. They are two completely separate and they need to be treated very differently. I think making things on internet is making sense now. It is a fantastic tool of communication. I don't know why you're so
down
on the internet.  
Olivier Zahm: 
Because nothing lasts and nothing has a meaning on the internet. That's my experience of it. It's fantastic, it is an incredible source of  ideas images and possibilities. It is the
hyper democratization
of what we call creativity and this is also the end of it. I'm not speaking about the money. You just work on something who's an endless figure of space of nothing. What we do when we create a magazine, we make history. We create a step where we say
this is now, this is what we want, this is what we like, this is what we don't like and we are not part of this system
because the system is a Tsunami of possibilities, a Tsunami of images, a permanent flux of  stimulation.
The internet is a media system today. It is a flux of images that just doesn't mean anything. The day after it's gone and useless.
 Paintings mean nothing on internet. You are looking at an image of a painting. You have to see a painting in person. The more
they
are choking the more
they
are successful. And what does it mean ? Of course we can play this game and it's easy but this is not the mission of a magazine. The mission of a magazine is to produce less images, the right images with the right photographer of the moment with the right brands, the right  architecture, the right interior decoration, the right carpet, the right makeup artist.
Christopher Bollen: 
I agree with a lot with what Olivier said about the definition of a magazine. It has to do a lot about what the voice of the experts, the depth of the curators.
Now we believe that anyone can curate as well as being an editor of a magazine. So there is no idea of value about that expertise of producing a magazine.
Anyone who has an Instagram account can think they can do the same job. There is an art to make a magazine. A lot of independent magazines last for 3 or 5 years and then disappear. It always has been challenging.
Magazines who used to have a voice are now catering to brands.
There was a time when editors had a voice. Andy Warhol for example. And what happened is the editor started to look at who was the most popular person on Instagram.
Felix Burritcher: 
It will be interesting to know what Andy Warhol would say?
Christopher Bollen: 
He would love Instagram.
Olivier Zahm:
He would eat an hamburger at front of Instagram. He would make fun of it.
To finish this lecture on a good note. I believe only good magazines will survive this disaster.
Felix Burritcher: 
To have a magazine you have to have a degree of obsession. It takes so much work. You need to be possessed.
Olivier Zahm:
For me a magazine it's a diary of a moment. It's dated. It's like music. You can say this music is from 1992, this one is 2007. A magazine is a process to build up a community,  a collective work. It is like making a film. I'm not speaking about the magazine as an object. I'm speaking about the process. It is a collective process. 
Internet, it is a form of amnesia and control of the people. It will collapse. MySpace collapsed.
Look at the number of images we look online for no reasons it's like a lot of waste of energy and creativity. We are all fascinated by this monster. It's like the black box in Twin Peaks. We are looking at a weird big black box. It's a form of decadence. It's the end of the civilization. To preserving the magazine form it's not conservative. It is modern. 

Internet is made for you to lose your brain. It's amnesia, pure amnesia.

Going on internet is like celebrating your ego. I'm the first to do it. I promote myself. There is no reward. It is you with no community.